India Art Tour Pictures
Because it was my first time in India, we took a small but dedicated group of students and partners to Rajasthan in February, for 14 days of Ah-Maz-ing, colourful, surprising touring. We had a FABULOUS time. The food was wonderful (no-one ill!), the people just so welcoming, the company interesting and well-travelled, the architecture on par with anything in Europe, the history and culture very deep. The music, physical looks of the people and the food changes from one end of this vast country to the other. We saw all the highlights in style, staying in Heritage hotels which have stood for hundreds of years (but updated bathrooms!) and tasted Indian food on the streets of Delhi, through the home cooking of many restaurants by the road, to the Haute Cuisine of Masala Library, where the chef has been the first Indian to be inaugurated into the International Hall of Fame. We tuk-tuked; bussed; train-rode, walked, cabbed and were chauffeur-driven, but interacted with these fabulously friendly and welcoming people at every turn. I have never been to a country where I have had so much contact with locals – and the Indians are blessed with beautiful smiles and a great sense of humour! Mention Ricky Ponting, and you're in!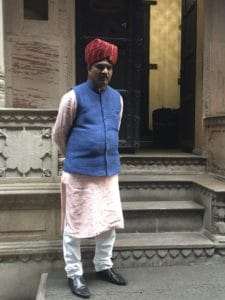 Umbria Retreat Pictures
We had a wonderful time eating, drinking and drawing or painting our way around several medieval towns and their restaurants in the wonderful region of Italy's Umbria. and here's the photos to prove it!

Bali Art Retreat July 2015 – in Pictures:
Despite the volcanic ash cloud meaning delayed transport to Denpasar and the cancellation of one student whose flights just couldn't make it, Bali delivered all the magic it could have possibly given – excellent service with a genuine smile, wonderful weather (no rain, slight breeze, no need for air-con), the sights of one of the biggest festivals (Galungan – like Easter or Christmas); a beautiful villa, wonderful food and a real cultural experience. Enjoy these pictures – and resolve to join us in a once in a lifetime treat to become immersed in the art, produce and culture of foreign lands.
All images taken on the retreat by Gabrielle Jones.

v
v