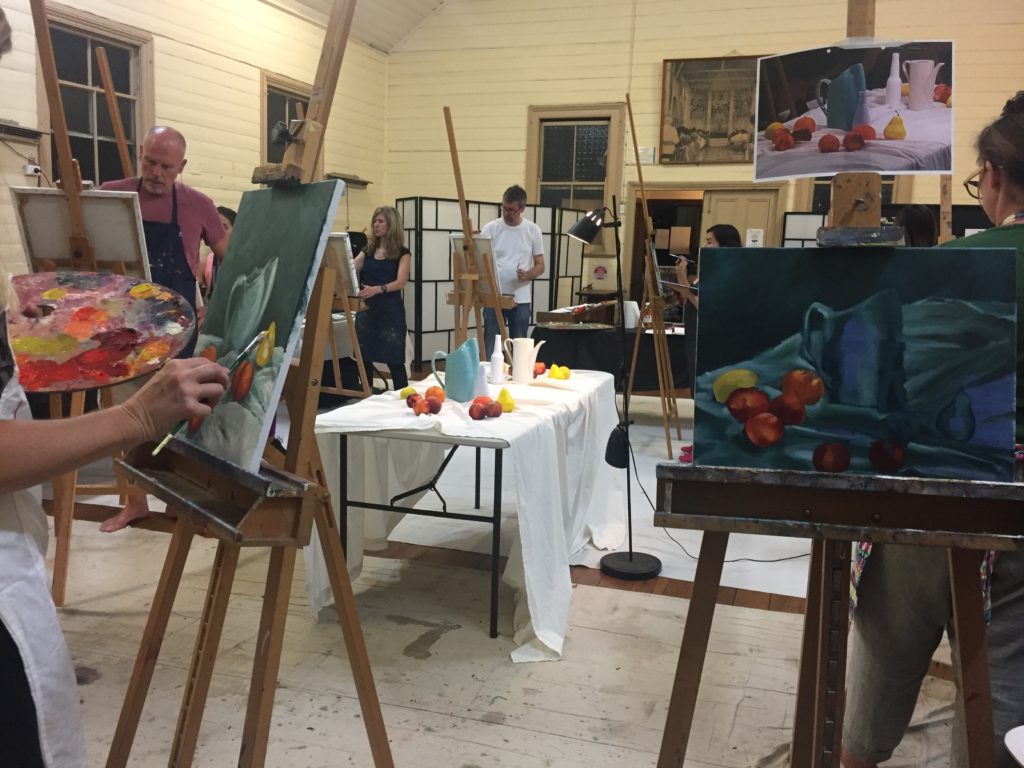 Monthly Sunday Fundamental Painting and Drawing Series
These one day workshops are designed to give students the fundamental skills of painting and drawing and are suitable for absolute beginners to students with some experience! For painters who have never learnt drawing, the drawing workshops are an excellent way to learn essential skills.
Drawing workshops will cover basic drawing skills including drawing from observation, measuring proportion, how to see and draw tone, texture and line and will work from a variety of subjects. Materials will include a variety of drawing media.
The painting workshops will teach basics of composition, how to see tone and mix colour, how to start a painting and working in layers, details of materials and tools and will also work on a number of subjects which are listed below. Acrylic paints will be used. If you have your own paints you are welcome to bring them.
Various master artists will be referenced and professional artist and experienced tutor Ochre Lawson will demonstrate different techniques.
Next Workshop
Sunday 23nd June, 10am-3pm
Painting fundamentals – Still Life
Cost – $160 All materials included
Venue – The Art Room Studios, Suite 7.12 First Floor, Building 7, Precinct 75, Edith St, St Peters, NSW 2044
Free onsite parking
Sunday 25th August, 10am-3pm
Drawing Fundamentals – Portraits
Cost – $160 All materials included
Venue – The Art Room, Suite 7.12 First Floor, Building 7, Precinct 75, Edith St, St Peters, NSW 2044
Free onsite parking
Sunday 15th September , 10am-3pm
Painting fundamentals – Portraits
Cost – $160 All materials included
Venue – The Art Room, Suite 7.12 First Floor, Building 7, Precinct 75, Edith St, St Peters, NSW 2044
Free onsite parking
Saturday 5th October, 10am-3pm
Drawing fundamentals – Landscape
Cost – $160 All materials included
Venue – St John Church Hall, Cnr Spring and Thomas St, Birchgrove
Free onsite parking
Sunday 17th November, 10am-3pm
Painting fundamentals – Landscape
Cost – $160 All materials included
Venue – The Art Room, Suite 7.12 First Floor, Building 7, Precinct 75, Edith St, St Peters, NSW 2044
Free onsite parking
Sunday 7th December, 10am-3pm
Travel Sketching in the park – Landscape, streetscape, buildings
Cost – $120 materials not included but may be purchased on request.
Venue – TBA
Portable Painting/Artists workshops/ Corporate team building
Let Ochre know of any workshop subjects you would like to have covered  in either Painting and/or drawing; Colour Bootcamp;  Portraiture; Landscape, Interiors, Still Life, Abstraction, Travel sketching in the park
For groups of up to 12 at your location or at our venue depending on availability:
One day 10-4pm $160/day/student, minimum 6 students
Three hour workshops $100/student, minimum 6 students (+materials + travel + expenses, if applicable).
Gift Certificates – Weddings, Parties, Anything
We have Gift Certificates to send to you or direct to the lucky recipients. Contact us to find out more.
PAST WORKSHOPS AND RETREATS
Summer in the Mountains – 3 Day Painting and Drawing workshop
Tuesday to Thursday 15-17 December, 2015 Blue Mountains
Above: Everglades House and Gardens, Leura – Image by George Suresh for Australian Traveller
We've organised some great venues for a fabulous experience painting and drawing across the mountains! Venues include Conservation Hut Wentworth Falls; Everglades House in Leura; Rhododenron Gardens, Blackheath; Dry Ridge Estate Vineyard and Megalong Tea Rooms, Megalong Valley; and more! Subjects will include statuary (life drawing); gardens and historic buildings; urban vistas, Vineyards and country views and animals – a great variety to suit any subject preferences! You'll need your own materials and a portable easel (limited numbers available for loan – first in, best dressed).
Price: $360 includes tuition and entry to the venues, where applicable. Accommodation and all meals at own cost. Students will need their own transport.
Please note: some venues may be cancelled in poor weather, but the workshop will proceed.
Bali Retreat in Ubud – 7 days painting and drawing in Bali's Culture capital – Sat 11th July to Sat 18th July 2015
There'll be time to learn more about painting; interact with the local villagers; experience Bali's culture; explore the area on bike, foot or by car; have small or group dinners at terrific local restaurants; or shop when you feel like it. The basics are covered… the advice is Australian local; the tuition is master class; the location and accommodation amongst the best in Bali; and the people you share with are just like you!
We figure we can decide as a group (according to the weather and local advice, or impromptu ceremonies, village visits etc) when to take tours and what you'd like to paint the next morning after each class. We'll be staying in a fabulous Balinese style villa just 15 minutes from the cultural capital of Bali in Ubud, set right in the middle of rice paddies, where you can get away on your own or share with like minded people as you wish. The painting program includes daily tuition in and around the villas or at the sites of tours (as below or decided the night before). All additional events, transport, meals are at own cost to allow for those who want to indulge in all Bali has to offer. We can recommend spa treatments, good masseurs, haircuts, restaurants etc or come ready with your own research.
LOST – Leichhardt Open Studio Trail Saturday/Sunday14-15 March 10-4pm
Art Class Sydney will be included, for the first time, in this event held on the weekend of 13th and 14th March, 2015. This is part of the "Sydney Art Month" Events held across the city to promote interest and learning in the arts. Come along and see what a class is like, Join in or watch the students painting. Student and teacher artwork will be available to view and buy, and you can follow the Trail and see other artists' studios in Leichhardt, Balmain, Birchgrove, Annandale and Glebe (Maps will be available at the Birchgrove class hall). Look for the LOST signs in these areas.
"Surprise" SpectrumNOW – one day Creativity and Abstraction workshop – Wednesday 18th March 10-4pm
A fun and challenging abstract workshop designed to ensure fast learning, early success, and to stimulate creativity and generate ideas for on-going work. Using observation of real objects, Gabrielle Jones (BFA, BA) will walk you through a number of fun exercises, extended thinking methods, tools & imagination games to develop your ability to make interesting abstract work; move your realistic paintings away from the predictable; or improve composition and subject ideas. Suitable for beginners to advanced students in painting or drawing, Gabrielle will support & encourage you to explore your creative limits amongst like-minded people – and even have you dancing with brush in hand! If you're wanting to break out of your current painting rut, reach the next level in your art making, move from realism to abstraction, or simply wish to explore abstraction and their creativity, then this is the masterclass for you!
Numbers are strictly limited to 20.
Spectrum Now Master Class – Abstraction and Creativity in Art:
18 March 2015 10am-4pm
St John's Church Hall, Birchgrove NSW
This workshop is offered at the special Spectrum Now Price of $95 (Usually minimum $120).
"So much to learn and explore! An encouraging and stimulating atmosphere"
Katie, Birchgrove
Painting from the Model – 2 Day intensive workshop
Thu & Fri 10 & 11 July, Sydney
(Balmain Town Hall – Meeting Room)
This workshop is designed to introduce you to life painting, help you lose any fear of painting the figure or the face, and to enhance your artistic repertoire. Students will gain confidence in a variety of drawing and painting approaches suitable for oil and acrylic painters; understand the importance of tone and apply it to your work; learn one, three, and extended colour palettes for life and portrait painting; attempt expressive and realist painting styles; and discover a range of contemporary artists whose practices centre around the figure.
> Download a brochure.
3-day intensive workshop – 14-16 January 2014
Build your confidence and/or fill in the gaps of your learning so far: colour mixing, tone, brushwork, creative techniques
Cost: $350
> Download a brochure here.
> Download the enrolment form for details and for full terms and conditions.
"Doing this workshop has made me really happy"
Ness, Balmain
Abstraction in the Landscape – Megalong Valley and Dryridge Estate Winery
2-day En Plein Air and in Studio painting workshop – 21-22 January 2014
Immersion in Landscape workshop introduces a variety of responses to the landscape with amazing views as a backdrop to develop more interesting paintings.
Cost: $265
"The (workshop is) a really great motivation for "change". It is surprised me how much more adventurous everyone became by Wednesday afternoon. Great fun!"
Lyn, Oatley
Wangi Wangi Art Society (Portable Workshop)
Colour, Abstraction and Creativity
11th July, 2013 At Wangi RSL
Membership Only
Fundamentals of Painting – Balmain
3-day intensive workshop – 22-24 January 2013
Cost: $350
Creativity and Abstraction – Blue Mountains (Megalong Valley)
19 & 20 January 2013
Cost: $250
Abstraction in the Landscape – Wentworth Falls
6 & 7 October 2012
Cost: $250